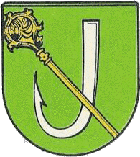 Kuhardt Coat of Arms
Description: In green a silver fish hook, occupies with a golden bent staff diagonally placed.
The local coat of arms, which was approved by the Ministry of the Interior of the country Rhineland-Palatinate in this form and in these colors on 28 February 1956, represents the history of the village. The green color stands for the name of the place - Cohors = Cohart = cow pasture. The name is of Latin origin and points probably to the presence of the Romans in this area. From Cohart, the name became Kuhardt in the course of the centuries. The silver fish hook, which is to be found in the seal of the Hördt Church District and not in common history with Leimersheim points, in connection with the golden bent staff, the bishop staff, reminds of the temporary close connection of the place Kuhardt to the monastery, which was donated to the cathedral to Speyer, and to the Hördt Church District.