1) First, figure out which buildings you want to build (for example, Castle Keep, Church, Inn, etc.)
2) Figure out what kind of rooms you want in each building. To help with this, you might want to get some good castle books or videos from the library or a bookstore. You might even want to fly over to Germany and look at some castles. Click here for a list of good castle books.
3) Draw a diagram showing which rooms are next to each other or on top of each other.
4) For all of the rooms, figure out which kinds of things you want to put in them. This is another time where you might want to look at some castle books to get ideas of what kinds of things might be in each room.
5) Figure out if you already have enough Lego blocks to build the buildings and rooms that you want. If you need more Lego pieces, here are some great places to buy them:
You can buy almost any piece ever made. You can buy sets or single pieces. Remember that castle sets often include lots of "special" pieces, like arches, doors, soldiers and weapons.
Toys"R"Us and other local stores -- these stores carry the latest Lego sets. They are not always the best sets for building Lego castles, but they might contain some useful "special" pieces. Watch for sales and closeouts.
www.lego.com -- A good place to buy the latest sets that you cannot find at local stores. You can also find additional gray blocks, roof pieces and special castle pieces here. You may want to check this website often because they frequently change what is for sale. If you want to buy some of the older-style Lego castle pieces, you may need to buy them from www.bricklink.com.
www.ebay.com -- A great place to buy inexpensive Lego collections. Search for "Lego" to see all Lego blocks for sale. You might want to narrow your search by entering "Lego Castle".
6) Put all of your "special" Lego pieces in one container, then go through all the pieces and figure out which ones you could you use for the different things you want to put in each room. Put those pieces in separate containers and mark which rooms they're for.
7) If you want your Lego buildings to "swing open", you can get some hinge pieces at www.bricklink.com. The official name of this piece is "Hinge, Brick 1 x 4 Swivel - Complete Assembly".


8) Figure out a good place to build your castle where it is out of the way. I built mine in the basement on a table.
9) Buy some green fabric at the fabric store that is the same color as green Lego blocks (take a green Lego with you). Then, put the fabric over the plywood table.
10) I built a turntable using two pieces of plywood and a large "Lazy-Susan" mechanism that I bought at the hardware store. I put the Castle Keep on top of this so that I can carefully turn it around and look at the back cross-section. Make sure to attach the two sides of the "Lazy-Susan" to the plywood pieces with screws.


11) If you build something really big, make sure that it can come apart in sections so that it is not too heavy to move. For example, my Castle Keep has four sections. I used tile bricks between them so that the sections would not stick together.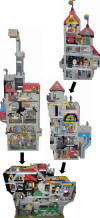 12) It is okay to "remodel" your castle or change the design if you have some new ideas. I did this several times.
13) Be patient - it took me about 10 years to build everything, and I'm still working on it!
Have Fun!
---